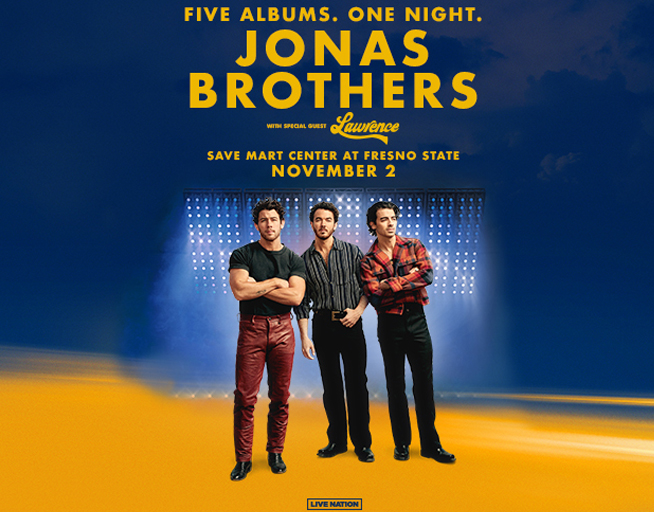 Y101 is proud to welcome the Jonas Brothers to the Save Mart Center at Fresno State with special guest Lawrence on Thursday night, November 2nd at 7:30pm.
Jonas Brothers
Thursday, November 2, 2023
Save Mart Center
Fresno, CA
Buy Tickets
Tickets go on sale at 10:00am on Friday, August 4th at Ticketmaster.com or at the Save Mart Center Box Office. The Save Mart Center Box Office is open Monday-Friday from 12:00 to 5:00pm.
Jonas Brothers Verified Fans Pre-Sale
Starting July 27th at 7:00 AM until July 31 at 7:00 PM, get verified online when you register on Ticketmaster.com to purchase your Pre-Sale tickets. If you are approved, you'll purchase your tickets in the Pre-Sale on Thursday, August 3rd from 10:00 AM until 10:00 PM.
Registration is easy and only takes a few minutes. All you'll need is the email address you use to sign in to your Ticketmaster account and your password. Follow these simple steps:
Click on the link in the announcement to go to the custom registration page.
Sign in using your Ticketmaster account, or if you don't have one, you can create one when you register.
Tell us what shows you're interested in and submit your registration.
From there, we'll send you a confirmation email to confirm your registration was successful and what to expect next.
Venue: Save Mart Center
2650 E Shaw Ave
Fresno, CA 93710
Phone: (559) 347-3400